BCV4 is a cloning tool for IBM® Db2® systems that automates the duplication, or 'cloning', of entire Db2 systems. It does the steps necessary to copy the original Db2 subsystem, and turns these copies into a new functioning DB2 system - the clone of the original. Fast cloning for table and index spaces, the full DB2 subsystem is now an easy, managable task. For SAP® users, this copy is called a 'Homogeneous System Copy'. BCV4 is innovative. BCV4 was the first to support 'single' and 'shared' environments and is not tied to a single vendor copy service. BCV4 clones complex systems, even combined IMS® / DB2® configurations, in record time. With the BCV4/BCV5 Suite (see link at bottom of this page) cloning subsystems, databases, tablespaces, and tables is fast and easy.
BCV4's features help deliver cloned systems that facilitate many useful functions:

Quickly clone entire DB2 or IMS systems... even both DB2 and IMS together
Timely availability of information to data warehouses, application servers, etc.
Facilitate parallel running of evaluations, queries and reports
Creation of test systems close to the production ones for testing, debugging etc.
Creation and tests of new versions and releases of applications or operating systems
Creation of a Peoplesoft® or SAP® Clone (DB2 server for SAP), etc.
Facilitate upgrade and testing of DB2 version 11 or version 12
BCV4 supports 'single' and 'shared' environments
IBM®, Hitachi®, EMC®... BCV4 is a Vendor independent solution compatible with copy services like native ADRDSSU, FlashCopy®, Snapshot®, ShadowImage®, etc. Volume and dataset level support
The BCV4Easy interface simplifies the setup for the cloning process
BCV4 allows cloning in a 24x7 environment. The clone is brought up using DB2's native recovery routines. DB2 System Backup support
With the BCV5 companion product, we provide the preeminent full and partial clone / copy / refresh solution on the market.
The technical background behind making a DB2 clone available:
Some vendors copy at volume level (Source->Target) whereby the VOLSER may be optionally transferred. If source and target are on the same control unit the the copy will only take seconds.
Other vendors make a continuous mirror-copy of the volume and can interrupt the mirroring process within seconds.
However in the z/OS world such volumes may be used only as backups when on the same LPAR of Sysplex, since the target files have still got the same dataset names and therefore:
they cannot be catalogued on the same system,
the catalog points to the source files,
the VVDS and VTOC index names are identical to the original names,
the ENQ feature of the operating system prevents a parallel update of different files with the same dataset names,
the DB2 internal catalog still points to the old volume.
Duplicate VVDS names, duplicate VTOC index names and hundreds or thousands of duplicate dataset names therefore prevent the immediate use of the target volumes. In addition there are problems with the DB2 internal catalog structure. Especially costly in terms of effort: SAP database servers under DB2.
What is required is a consistent renaming procedure for files. BCV4 makes functions available to do this quickly and systematically. After processing through BCV4 the target volumes may be used by standard access methods.
BCV4 is "vendor independent" and will work with: TimeFinder®, Snapshot®, FlashCopy®, Peer-to-Peer Remote Copy, ShadowImage®, NanoCopy®, etc. The names used are the trademarks of their respective manufacturers. Of course you could also just use the generally available ADRDSSU utility to create a volume dump.
BCV4 is the fast and automated approach for single or scheduled cloning tasks.
Scenario - Quickly make SAP, PeopleSoft, or Homegrown Application data usable with BCV4:
You may use SAP, Peoplesoft, or run your homegrown DB2 application - with BCV4 you will be able to provide a system clone within minutes. BCV4 can be used in any situation where a DB2 instance has to be copied and where size dictates that only volume copies are feasible, i.e. fast enough. Whether it is the basis of a SAP system or of any other application does not matter.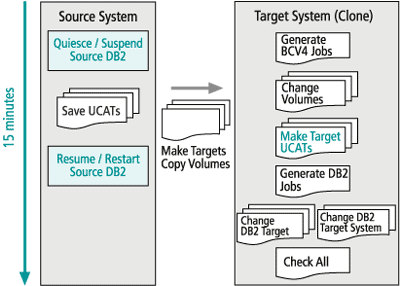 BCV4 generates a batch process that contains between 8 to 50 jobs dependent on the configuration. The entire process of creating a DB2 clone is reduced to just starting a job stream. Using a fast-copy function together with BCV4 can make a ready-to-use clone available within 15 minutes. The figure here shows how the cloned system is available inside 15 minutes based on an environment with about 70,000 datasets and over 300 volumes.
Cloning of DB2 subsystems made easy. If desired, we'll carry out the first cloning together with you.

Time $avings and Benefits
Dramatically reduce the cloning process time from days to minutes.

Improve turnaround times to programmers and users

Ability to make cloning a scheduled batch process

Automation that eases demands on DBA, Sysprog, Storage, and SAP groups

Reduction in delays and associated costs