Thanks for visiting us at IDUG tech conference!




ESAi/UBS have technology that helps shops reduce their data management costs and the associated manual efforts typically found in copying and refreshing data. Be it test data management, big data, or data warehouse, our fast refresh and cloning solutions automate, simplify, and improve your bottom line. Don't let the usual Unload/Load utilities drive up your costs and slow down data availability. Automation and significant improvement in delivery time is typical.

BCV5™ is focused mainly on the mainframe Db2® environment with incredibly fast database, table copy/refresh/clone or bulk migrates. Automation makes the full process an easy task that relieves DBA's from tedious manual work of copying/refreshing data and structures to target environments.

BCV4™ provides rapid Db2® and/or IMS® full subsystem clones in record speed. Ideal for SAP & PeopleSoft.

BCV5™ Masking Tool for Db2 does comprehensive masking of sensitive PII data. Click to Request More Info.

XDM™ is a multi-platform (Mainframe, Unix, Linux, Windows within and between) for Db2® z/OS®, Db2 LUW, Oracle®, SQL Server®, PostgreSQL, IMS®, VSAM®. It can select/migrate/copy/mask data and RI related data for test cases and other data needs.

Product data sheets for these as well as our highly regarded BufferPool Tuning, SQL Performance, and Log Analysis tools can be viewed by Clicking here for DB Products Overview. OR Click Here to Request a Demo or Product Q&A.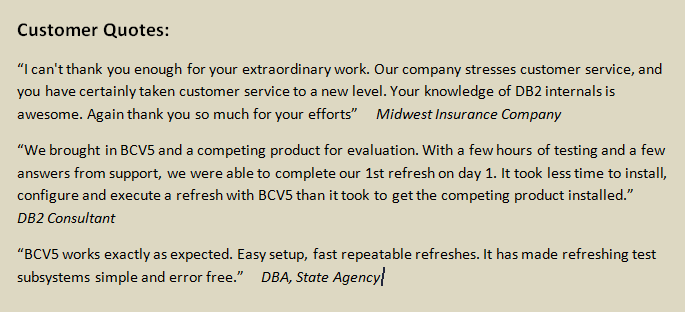 Watch a 10 minute Video presentation on BCV5 and XDM. Also included is a brief demo of XDM row level capability.